Ayodhya Case Chukado: The Supreme Court has delivered its historic verdict on the Ayodhya dispute. The Supreme Court termed the controversial premises Ramlala. The court, on the other hand, said that the Sunni Waqf Board should be given alternative land for the construction of the mosque.
To read the entire judgment, please download the file from the link below…
Ayodhya Judgment PDF: Click Here

Source: Supreme Court of India
Ayodhya Case Chukado Live Updates: Supreme Court judgment at 10.30 am; Appeal to all countrymen to respect the decision of the court and to keep the peace.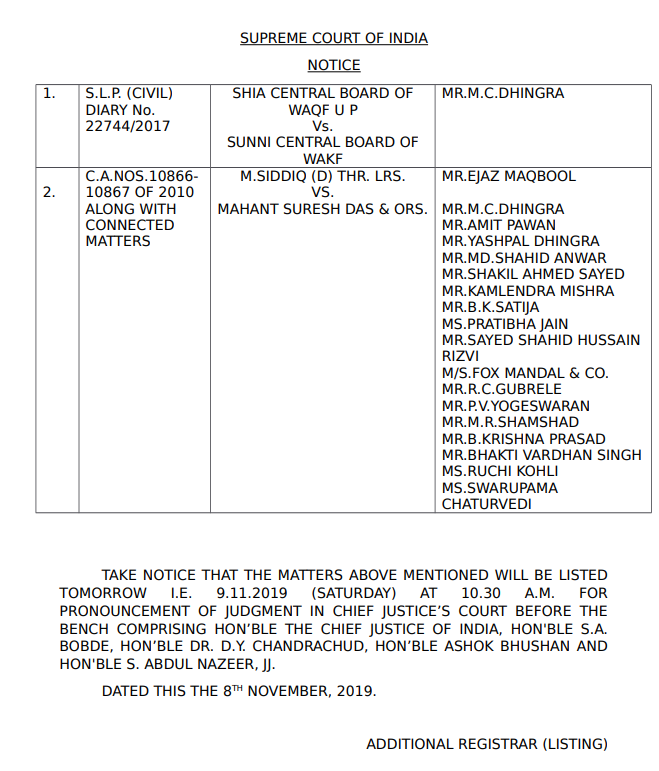 The Supreme Court is set to pronounce the much-anticipated verdict in the Ayodhya land dispute case today. The Constitution bench headed by Chief Justice Ranjan Gogoi is expected to pronounce its judgment in Ayodhya's Ram Janmbhoomi-Babri Masjid title suit at 10:30 am.
You can watch Live News of the Ram Mandir-Babri Masjid dispute on this page or the Live TV, Youtube, where you will get the latest updates on the Supreme Court's historic decision.
For more news updates on the Ayodhya verdict, follow the below the post.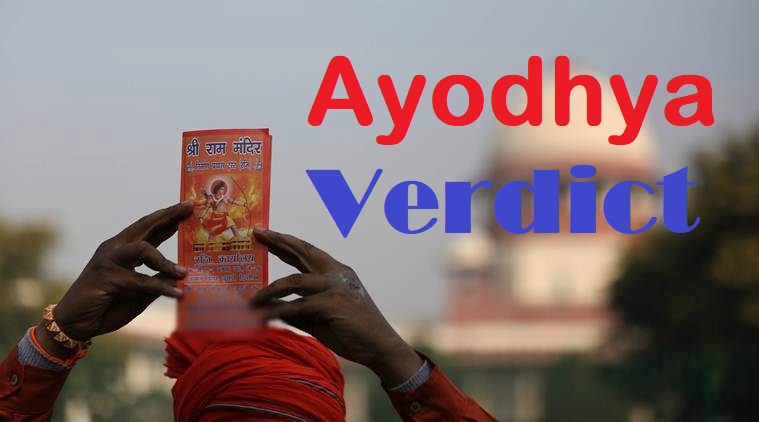 Narendra Modi tweet on Ayodhya Verdict
यह फैसला न्यायिक प्रक्रियाओं में जन सामान्य के विश्वास को और मजबूत करेगा।
हमारे देश की हजारों साल पुरानी भाईचारे की भावना के अनुरूप हम 130 करोड़ भारतीयों को शांति और संयम का परिचय देना है।
भारत के शांतिपूर्ण सह-अस्तित्व की अंतर्निहित भावना का परिचय देना है।

11:20 PM – 8 Nov 2019

सुप्रीम कोर्ट का यह फैसला कई वजहों से महत्वपूर्ण है:
यह बताता है कि किसी विवाद को सुलझाने में कानूनी प्रक्रिया का पालन कितना अहम है।
हर पक्ष को अपनी-अपनी दलील रखने के लिए पर्याप्त समय और अवसर दिया गया।
न्याय के मंदिर ने दशकों पुराने मामले का सौहार्दपूर्ण तरीके से समाधान कर दिया।
11:19 PM – 8 Nov 2019

देश के सर्वोच्च न्यायालय ने अयोध्या पर अपना फैसला सुना दिया है। इस फैसले को किसी की हार या जीत के रूप में नहीं देखा जाना चाहिए।

रामभक्ति हो या रहीमभक्ति, ये समय हम सभी के लिए भारतभक्ति की भावना को सशक्त करने का है। देशवासियों से मेरी अपील है कि शांति, सद्भाव और एकता बनाए रखें।

11:17 PM – 8 Nov 2019
Narendra Modi Tweet on 08-11-2019
अयोध्या पर कल सुप्रीम कोर्ट का निर्णय आ रहा है। पिछले कुछ महीनों से सुप्रीम कोर्ट में निरंतर इस विषय पर सुनवाई हो रही थी, पूरा देश उत्सुकता से देख रहा था। इस दौरान समाज के सभी वर्गों की तरफ से सद्भावना का वातावरण बनाए रखने के लिए किए गए प्रयास बहुत सराहनीय हैं।

10:26 PM – Nov 8,2019

देश की न्यायपालिका के मान-सम्मान को सर्वोपरि रखते हुए समाज के सभी पक्षों ने, सामाजिक-सांस्कृतिक संगठनों ने, सभी पक्षकारों ने बीते दिनों सौहार्दपूर्ण और सकारात्मक वातावरण बनाने के लिए जो प्रयास किए, वे स्वागत योग्य हैं। कोर्ट के निर्णय के बाद भी हम सबको मिलकर सौहार्द बनाए रखना है।

10:27 PM – Nov 8,2019

अयोध्या पर सुप्रीम कोर्ट का जो भी फैसला आएगा, वो किसी की हार-जीत नहीं होगा। देशवासियों से मेरी अपील है कि हम सब की यह प्राथमिकता रहे कि ये फैसला भारत की शांति, एकता और सद्भावना की महान परंपरा को और बल दे।

10:27 PM – Nov 8,2019
Latest Updates on Ayodhya Case Chukado