Dpegujarat.in is the official platform for the online transfer camp of primary teachers. Teachers who want to transfer will have to go to this platform and apply online. Teacher Transfer Portal was launched by the Director of Primary Education, Gujarat. Please read the full article for the latest news of the online badli camp June 2023.
Gujarat Primary Education Department has issued an online transfer revised schedule today i.e. on 3rd June 2023. The circular contains the necessary instructions and schedule for online teacher transfer. If you are looking for details or updates for an online badli camp then you are on the right page. Here on this page, we will provide an online transfer camp circular, full schedule, and other information.
Latest – Online badli 2023 circular has declared.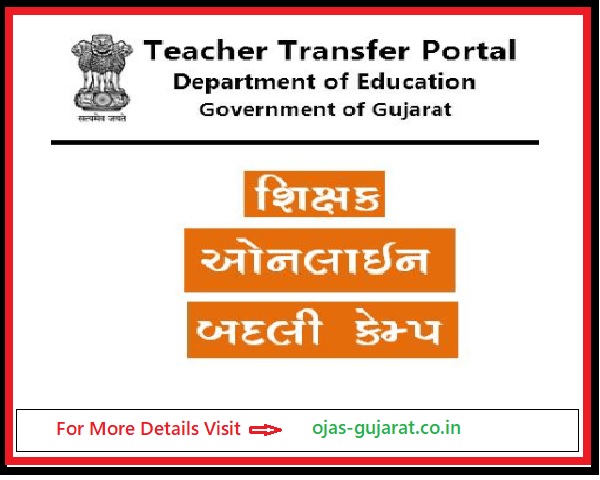 Also Check: SAS GUJARAT, Primary School Online Administrative Work
Dpegujarat Online Badli Camp 2023
| | |
| --- | --- |
| Organization Name | Director of Primary Education, Gujarat |
| Category | Online Badli Camp |
| Circular Date | 17th May 2023 |
| Online Application Date (2nd Round) | 6th July to 8th July 2023 |
| Order Download Date (2nd Round) | 21st July 2023 |
| Official Website | www.dpegujarat.in |
dpegujarat.in – Primary Teacher Online Badli Camp Dates
| | |
| --- | --- |
| Event | Date |
| Online entry of vacancy information | 23rd May 2023 to 26th May 2023 |
| Verification of vacancies – DPE – GIPL | 27th May 2023 to 28th May 2023 |
| Portal Testing | 4th June 2023 to 5th June 2023 |
| Date of filling up the form online by the teacher | 6th June 2023 to 10th June 2023 |
| Modify application/ To cancel the application/ Also to print out | 11th June 2023 to 13th June 2023 |
| Application form verification at taluka level and submission at the district level | 14th June 2023 to 17th June 2023 |
| Operation of uploading approval applications at the district level | 25th June 2023 to 27th June 2023 |
| Data Verification and Processing | 28th June 2023 to 29th June 2023 |
| Operation of issuing orders | 30th June 2023 to 1st July 2023 |
एप्लीकेशन करते समय साथ में रखने की माहिती
ऑनलाइन बदली फॉर्म फिल करते वक्त आपको कुछ माहिती अपने साथ में रखनी जरुरी है. यहाँ पर हम आपको वह माहिती की लिस्ट देने जा रहे है जिसको पहेले से ही आपको तैयार करके अपने पास रखना आवश्यक है जिससे ऑनलाइन फॉर्म फिल करते समय कोई दिक्कत नहीं आएगी.
हाल में जिस शाला में जॉब करते है उसका डायस कोड और पगार केंद्र शाला का डायस कोड
SAS Teacher Code
Current School Joining Date
Joining Date of Department
Date of Birth (DOB)
E-mail ID and Mobile Number
स्केन किया हुआ फोटो (100kb) और सही (100kb) सॉफ्ट कोपी में
वध नी बदली नी सिनियोरिटी माटेना आधार-पुरावा (शाला ना डायस कोड साथै)
मूल शाला परत अंगे ना आधार-पुरावा (शाला ना डायस कोड साथै)
मांगणी नी बदलीमा विधवा, अपंग, दंपति अने वाल्मीकि अंगे ना आधार-पुरावा
हाल नी शालानी नोकरी अंगे मुख्य शिक्षक नो दाख्लो.
How to apply for Online Badli Camp?
First, you have to register on the portal @ dpegujarat.in
Click on 'Click here for New Candidate Registration'.
Then enter your full name, email id, and mobile number.
Select District of Municipal Corporation.
Create a password that you can remember.
Now type the captcha code and click on the 'register' button.
Enter the OTP
Now login with your email id and password.
Fill in the required information in the application form.
Select the type of schools like Lower Primary or Upper Primary.
If you have chosen Lower Primary, choose Std. 1 to 5 in the subject And if you choose Upper Primary, choose your subjects such as language, math-science, and social science.
Choose male or female.
Choose educational qualification and training qualification.
Then enter your date of birth.
Select the medium.
Enter Current School DISE Code and School Name.
Select Taluka and enter the Village name.
Enter Pay centre DISE code and name.
Write the date as requested.
Then you have to upload the photo and signature.
Enter the information needed to change priorities.
Then tick in the guaranteed box and click save and next.
Go to the School Priority menu and select the school.
Tick in the guaranteed box and click Save School Selection.
Verify the information and click on 'Final Submission'.
Get a print by clicking on the 'Application Print' button.
Then get the school signature coins in the form and send them to the Taluka Primary Education Officer (TPEO).
Official Website: www.dpegujarat.in
Online Badli Registration/ Login
Online Badli Camp Revised Schedule June 2023 – New
Click Here to Download Online Badli Paripatra 17.05.2023
Dpegujarat Helpline
In case of any issue please contact on below number between 10:30 am to 6:10 pm only (Working day only).
Administrative Support: +91-079-232-53972/73/74/75,7016624206
Software Technical Support: +91-9099971769
We hope you find the above information useful. All the Dpegujarat online badli camp latest news will be updated here Therefore, every transfer aspiring teacher is requested to stay connected with us and read the full article.