Gujarat Primary School Reopen News: Schools in Gujarat to reopen from February 18 for classes 6 to 8, state education minister Bhupendrasinh Chudasama announced on Saturday. After almost 11 months of closure, Gujarat Education Department on Saturday announced that all schools in the state will reopen from February for classes 6 to 8 in accordance with the COVID-19 protocols issued by the Ministry of Home Affairs (MHA).
Gujarat Primary School Reopen News
| | |
| --- | --- |
| Department Name | Education Department |
| Article Category | School reopen news |
| Classes | 6 to 8 |
| School reopen date | 18 February 2021 (Thursday) |
The academic work for Classes 9 to 12 is going on in a satisfactory manner and COVID-19 guidelines are also being followed. Which is why, the government has now decided to allow students of Classes 6 to 8 attend school from February 18, Government said.
However, the attendance of the students will not be made mandatory, but the schools will have to have written consent from the parents of the students. Online study will have to be continued along with offline.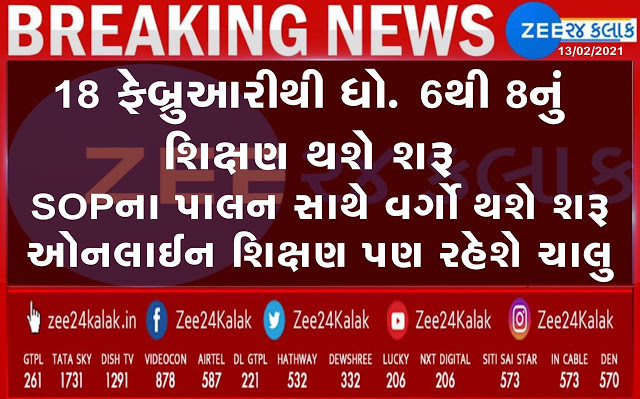 ધોરણ ૬ થી ૮ વિદ્યાર્થીઓ માટે ઓફલાઈન શૈક્ષણિક કાર્ય ફરીથી શરુ કરવામાં આવશે. ઓફલાઈન શૈક્ષણિક કાર્યમાં હાજરી આપવી વિદ્યાર્થી માટે સ્વૈચ્છિક રહેશે. તે માટે સંબંધિત સંસ્થાએ વાલી પાસેથી લેખિત સંમતિપત્ર મેળવવાનું રહેશે. ઓફલાઈન ની સાથે ઓનલાઈન અભ્યાસ ની પણ વ્યવસ્થા કરવાની રહેશે. સરકાર દ્વારા વંદે ગુજરાત ચેનલ અને ડીડી ગીરનાર પરથી પ્રસારિત થતા કાર્યક્રમો જોવા માટે વિદ્યાર્થીઓને પ્રોત્સાહિત કરવાના રહેશે.
વાલી એ આપવાનું સંમતિ પત્રક ડાઉનલોડ કરવા અહીં ક્લિક કરો