ikhedut Gujarat – Khedut Sahay Portal
ikhedut Gujarat is an online portal for Agriculture, Farmers Welfare & Co-operation Department,.Government of Gujarat. Our country is the Minister of Agriculture, and in the state of Gujarat, many families run their own agriculture through farming. For all such farmers, several schemes are implemented by the Government of Gujarat. Agriculture, Animal Husbandry, Horticulture, Fisheries, Land, and Water Conservation Yojana available on i-khedut Portal. This portal is very useful to apply online and download useful forms.
Latest Update
Chief Minister Shri Vijaybhai Rupani announced an Rs.3,700 crore package. Online Application will be started on October 1, 2020.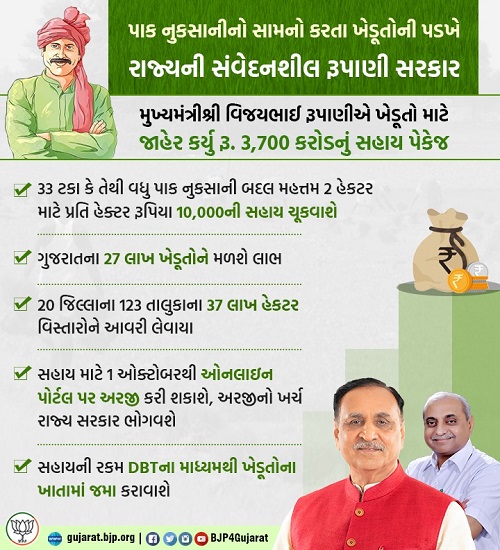 Read Full News in Gujarati: Click Here
Chief Minister Vijay Bhai Rupani has announced the Mukhyamantri Kisan Yojana. The risks covered under the scheme are as follows-
Drought
Heavy rain
Non-seasonal rainfall (Mavthu)
Read Full Details in Gujarati (PDF): Click Here
It has been decided to keep the I-khedut Portal open for two months in the year 2020-21. Online applications can be made from 01-03-2020 to 30-04-2020.
Read Circular: Click Here

Apply Online for 2020-21 Yojana: Click Here

Official Website: Click Here
Tid loss Sahay package for 11,000 Khedut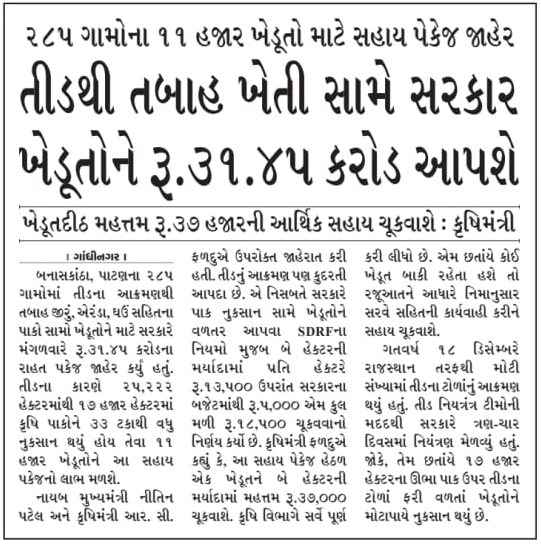 Khedut Sahay has been announced by the Government of Gujarat for the loss of rainfall (15.10.2019 to 20.11.2019). Download Khedut Sahay Form from the link given below.
Updates on Telegram Channel: Click Here
Khedut Sahay Form: Click Here

More Details: Click Here
About Gujarat ikhedut Portal
The state has achieved an average agricultural growth rate of over 5% in the last decade. For the first time, the state has given innovative programs like Agriculture Festival and Soil Health Card in the country. The Vikas Yatra is an innovative addition to this step of the year. The farmers of the state should get timely information about the farm material required for cultivation, the latest agricultural information can be made available by finger tare, the benefits of various welfare schemes are available to the farmers at home, and the current market for different weather and agricultural products. I-Khedut Portal is implemented by the department.
Also, Check: PM Kisan Yojana
Important Note:
On the iKhedut portal that anyone can apply to the schemes available at that time.
Eligibility and non-eligibility of the application which is determined by the designated officer on the basis of site inspection or manual verification of records.
Whether the application is eligible or not in the status application which is updated by the authorized person.
Pre-Approving Officer pre-approves applications.
Verification work is also done thoroughly after thorough site-checking / record-checking.
Pre-Approval Order and Payment Order are signed by the competent authority.
ikhedut Gujarat Yojana List
| | | | | |
| --- | --- | --- | --- | --- |
| A number | Section | Total components | Currently available components | Year of application |
| 1 | Plans for farming | 39 | 1 | 2019-20 |
| 2 | Land and Water Conservation | 1 | 0 | 2018-19 |
| 3 | Animal Husbandry Plans | 39 | 5 | 2019-20 |
| 4 | Horticulture Plans | 128 | 2 | 2019-20 |
| 5 | Fisheries Plans | 46 | 0 | 2019-20 |
Other plans
| | | |
| --- | --- | --- |
| A number | Name of the scheme | Year of application |
| 1 | Plans to promote organic farming | 2019-20 |
| 2 | Godown Scheme – 5% Capital Subsidy | 2019-20 |
| 3 | Support Schemes of Gausewa and Gauchar Development Board, Gujarat | 2019-20 |
| 4 | Biogas Plans | 2017-18 |
| 5 | Godown Assistance Scheme for Credit Co-operative Societies | 2016-17 |
| 6 | Godown Assistance Scheme for Credit Co-operative Societies | 2015-16 |
| 7 | Godown Assistance Scheme for Credit Co-operative Societies | 2014-15 |
ikhedut.gujarat.gov.in – How to Apply
More than one scheme is provided on the i-khedut Portal. Here are the steps you have to follow for applying online:
First of all Visit the Official website of Ikhedut Portal i.e., ikhedut.gujarat.gov.in
Now Click on "Yojana" Menu
The new open page will see different schemes below
Now Click on the respective schemes
Fill that form and click on Submit
Now, You have successfully applied for Scheme from Ikhedut Gujarat Portal.
ikhedut Portal Gujarat: Check Application Status or Re-print
After applying online, you will get a notification on your mobile. if you want to check status or Re-print application follow these steps:
First of all Visit the Official website of Ikhedut Portal: ikhedut.gujarat.gov.in
Now Select your Scheme Type
Select the Application number or Receipt Number
Enter Receipt Number or Application Number.
Enter Captcha Code
Now Click on Submit
In the open page, the status of your application can be viewed and reprint.
Also, Check: Ayushman Bharat Yojana
Official Website: ikhedut.gujarat.gov.in