Sukanya Samriddhi Yojana: In a society where gender equality and empowerment of women have become pivotal issues, the Sukanya Samriddhi Yojana stands as a beacon of hope. This government-backed savings scheme in India was launched in 2015 to address the specific financial needs of the girl child. With a focus on securing her future and promoting her education and well-being, this scheme has garnered significant attention and acclaim. In this blog, we will delve into the details of the Sukanya Samriddhi Yojana, exploring its features, benefits, and the impact it has had on the lives of countless young girls across the country.
What is Sukanya Samriddhi Yojana?
Sukanya Samriddhi Yojana (SSY) is a small savings scheme under the "Beti Bachao, Beti Padhao" campaign launched by the Government of India. This scheme is specifically designed to facilitate the financial planning and security of the girl child from her early years to adulthood. It is available to parents or legal guardians of a girl child below the age of 10 years.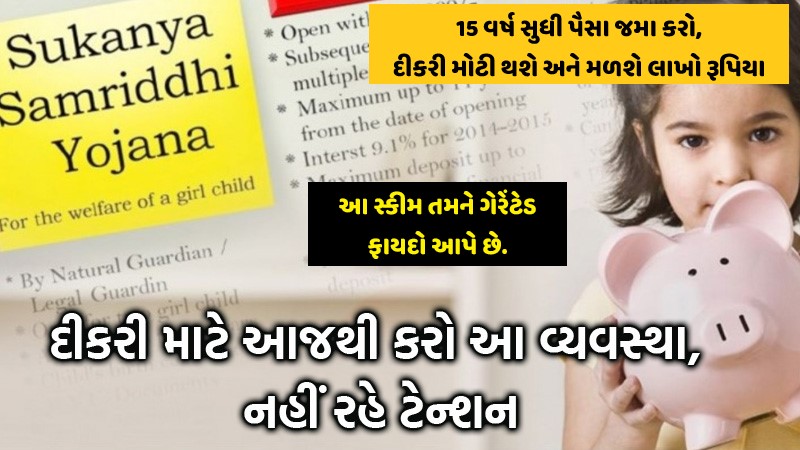 Features of Sukanya Samriddhi Yojana:
High Interest Rates: One of the most attractive features of SSY is the high interest rate it offers. The interest rate is revised quarterly and is often significantly higher than that of other savings schemes, making it a lucrative investment option.
Tax Benefits: Contributions made towards the SSY account are eligible for a tax deduction under Section 80C of the Income Tax Act, making it an attractive choice for tax-saving purposes.
Long-Term Investment: SSY has a lock-in period of 21 years or until the girl child turns 18, whichever is earlier. This ensures that the funds are genuinely dedicated to her long-term welfare.
Minimum Deposit: The minimum annual deposit required is quite reasonable, making it accessible to families across different income brackets.
Account in the Girl's Name: The account is opened in the girl child's name, making her the beneficiary and ensuring that the funds are reserved solely for her future.
Benefits of Sukanya Samriddhi Yojana:
Financial Security: SSY offers parents and guardians a secure and reliable way to save for their daughter's future needs, including education, marriage, and more. The funds can be used for any legitimate expenses concerning the girl child's welfare.
Promotion of Education: By earmarking funds specifically for the girl child's education, SSY plays a crucial role in promoting and ensuring her access to quality education.
Tax Savings: The tax benefits provided by SSY help families reduce their tax liability, encouraging them to invest in their daughter's future.
High Interest: The competitive interest rates offered by SSY help the corpus grow significantly over the long term, ensuring that there are substantial funds available when needed.
Flexibility: SSY allows for partial withdrawal after the girl child reaches the age of 18. This can be helpful for meeting her educational expenses or other important financial needs.
How to Open an Sukanya Samriddhi Yojana Account:
Opening an SSY account is a straightforward process. Here are the steps to follow:
Locate a bank or post office that offers SSY accounts.
Fill out the application form, which requires essential details about the girl child and the depositor.
Submit the necessary documents, such as the girl child's birth certificate, proof of identity, and proof of residence.
Make the initial deposit, which is the minimum amount required to activate the account.
The account will be opened in the girl child's name, and the passbook will be issued.
Monitoring and Managing the SSY Account:
Once the account is open, it is essential to keep track of the deposits and withdrawals. Regular deposits are crucial to ensure that the corpus grows steadily. The account passbook provides a comprehensive record of all transactions, making it easy to monitor the account's progress.
Documents required for Sukanya Samriddhi Yojana
– Child birth certificate
– Address Proof
– ID proof
– PAN card
– Passport
– Ration card
– Lightbill
– Driving license
– Phone bill
Important Links:
Sukanya Yojana Details in Gujarati
સુકન્યા સમૃદ્ધિ યોજના કૅલ્ક્યૂલેટર
Final Word:
The Sukanya Samriddhi Yojana is not just a savings scheme; it is a beacon of hope for countless families in India. By specifically addressing the financial needs of the girl child and promoting her education and well-being, this scheme empowers girls and their families to plan for a brighter future. With its high interest rates, tax benefits, and long-term focus, SSY has become a popular choice for those looking to secure their daughter's future financially.
In a country where gender disparities persist, the Sukanya Samriddhi Yojana is a powerful tool for change. It not only provides financial security but also sends a clear message: every girl child deserves the opportunity to flourish and succeed. As more families embrace this scheme, we can hope to see a future where every girl in India has the chance to reach her full potential, breaking down barriers and achieving her dreams. SSY is not just an investment; it's an investment in a brighter, more equitable future for all.