Nishtha Online Talim 3.0: Nishtha Talim will be held online this year. The remaining primary teachers of the state are to join the Nishtha training. There are various compulsory courses to be completed in the online training. The training will start on October 1 in the state. This training is to be attended by the teacher in the school. To join this training, the teacher has to register and login to the Diksha app or website. After logging in to Diksha, the teacher has to fill up a self-declaration form. The schedule of Online Nishtha Talim is as follows:
Latest – Nishtha Talim 3.0 will start from October 1. The teacher has to fill up a self-declaration form by September 30 to join the online course.
Online Nishtha Talim Schedule
| | |
| --- | --- |
| Module | Date |
| 1 to 3 | 5th October to 10th October 2020 |
| 4 to 6 | 12th October to 17th October 2020 |
| 7 to 9 | 18th October to 24th October 2020 |
| 10 to 12 | 26th October to 29th October 2020 |
| 13 to 15 | 20th November to 24th November 2020 |
| 16 to 18 | 25th November to 29th November 2020 |
| All course revision | 1-31 December 2020 |
An understanding of Nishtha online training will be imparted through Bisag. Bisag broadcast can also be seen in Vande Gujarat Channel-1 and Jio mobile app.
| | |
| --- | --- |
| 7:30 to 10:30 | Course reading |
| 11:00 to 12:00 | Bisag broadcast |
| 12:00 to 12:30 | Exercise work |
The teacher should contact their CRC for any questions or confusion during this training. Report work is to be prepared and submitted to CRC.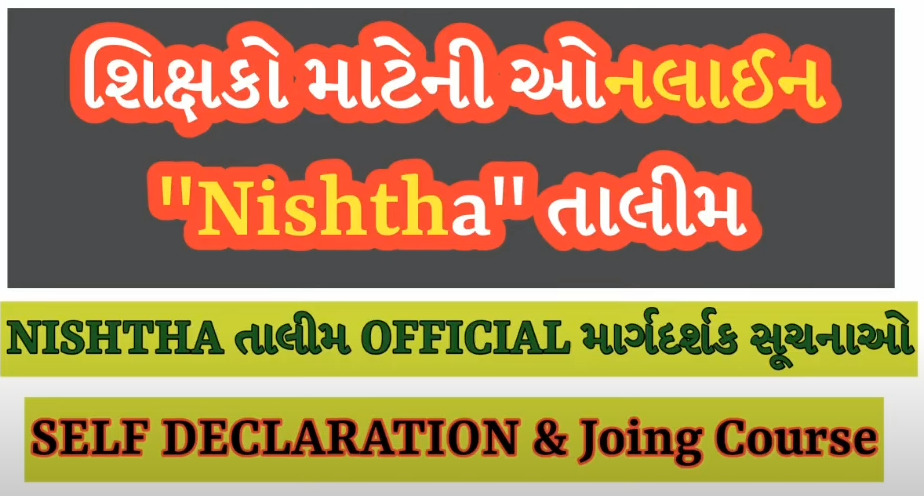 How to submit Nishtha Self Declaration Form?
1st Step: Open Diksha App or Website, select "Profile" at the right bottom and click on Login
2nd Step: Login with your details
3rd Step: Now Open Profile Section
4th Step: Click on "Edit"
5th Step: Write your name here as the same will appear on the certificate
6th Step: Click on "Submit details"
7th Step: Select I am a "Teacher" with "Gujarat"
8th Step: Enter your mobile number, email address, school UDISE ID, and teacher ID
9th Step: Check the box and click submit.
How to join Nishtha Online Talim?
1st Step: In Diksha App or Website, select "Courses" at the bottom.
2nd Step: Select the three-line icon at the top right corner to filter results
3rd Step: In filter, click on "Organization"
4th Step: Select Gujarat
5th Step: Select the course that you want to Join
6th Step: Click on "Join Course" and start taking the course.
Join Module (Direct Link)
Nishtha 3.0 Aheval PDF
Important Links
Nishtha Talim 3.0 Circular: Click Here
Diksha Website: Click Here
Diksha App: Click Here
How to Join: Click Here
Important Videos
How to submit self-declaration: Watch Video
Nishtha Talim Instruction: Watch Video
Hope the provided information regarding the Nishtha Online Talim is helpful. For more latest updates, keep visiting our page @ OJAS.