Hello Teacher Friends, Today we will learn about the new application 'SaralData App' for Unit Test (PAT) Marks Entry. You all know that the unit test is taken in standard 3 to 12 in the Gujarat state. The marks of this unit test also have to be done online. So far we have been making Mark's entry on the online website – ssaexam.in. But from this year, that entry has to be done through Saral Data mobile application. This application is to scan the table given in the test book.
We will get information about the SaralData application for unit test mark online entry. Below is information on where to download Saral Data mobile app, how to open it, how to log in, how to scan etc. Following the information given below, you have to make Mark's entry online.
Latest – The scanning process of the semester test taken in the months of April 2022 has been started from May 2022. Semester Assessment Test (SAT) capability added. Click here to download the marks scanning guidebook.
You Can Also Check: Ekam Kasoti Paper Solution
SaralData App
SSA conducts weekly tests to help students become proficient in key learning objectives. This app has been launched by SSA with questions being provided by GCERT, to enable easy and quick data collection at the question level for the answers that students provide in these weekly tests.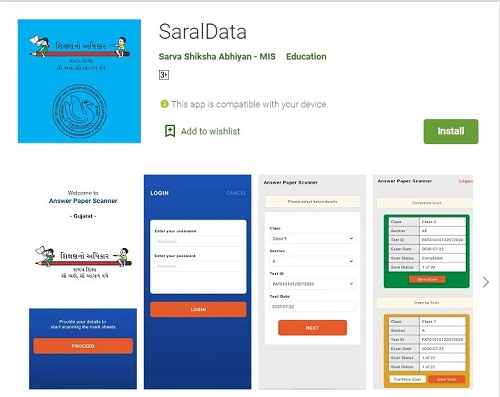 How to Download Saral Data App?
First, open the Google Play Store on your mobile
Now go to the search option and search for 'Saraldata'
Then click on the first application in the list of applications
Now click on the install button.
Saral Gujarat Website: Click Here

Download Saral Data App: Click Here
How to Use the Saral Data App?
Open the Saral Data app on your mobile
Click on the PROCEED button below
Now Login with Attendance Portal Login Username and Password.
Note: The following table given in each student's unit test booklet must be fully filled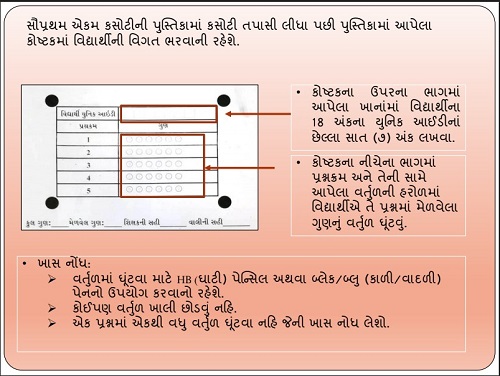 Ekam Kasoti (PAT) Marks Entry Online – Step
After logging into the application you will see the name of the school and the dice code.
Then click on the + (plus) sign on the right side of the mobile screen.
Now Select Class, Section, and Test date.
Then click on the Next button.
Now scan the mark sheet given in the unit test booklet by clicking the green scan button.
After scanning all the students' marks, click on the 'Save Scan' button.
Confirm and click the 'OK button.
You will now see the message 'SAVED SUCCESSFULLY' on your screen.
Semester Kasoti (SAT) Guideline Book PDF